Cloud storage allows storing, backing up, and file sharing anytime and anywhere. It simplifies access to your valuable files and offers better security against web-based threats. If you wish to implement cloud storage solutions for personal projects or business needs, you will need to buy a plan from a cloud storage provider.
Choosing the best cloud storage service can be challenging, considering the numerous services available. You'll want to look for a cloud storage plan that can fulfil any specific requirements you might have, such as team productivity, collaboration tools, or Microsoft Office integrations.
This article lists the best free and paid cloud storage services for personal and business purposes. We will guide you in choosing the ideal service for your needs, so let's dive right in!
What Factors Should I Consider When Selecting the Best Cloud Storage Provider?
While companies like Google, Microsoft, and Amazon Web Services offer acclaimed cloud storage solutions, smaller businesses tend to sweeten the deal with competitive prices, specialized plans, and distinct features.
Therefore, we will compare services from a few companies in the market to provide you with a definitive list of the best cloud storage options available today.
When choosing the best cloud storage providers, we considered such essential factors as:
Reputation – we only picked providers with excellent cloud storage reviews and ratings to ensure quality recommendations.
Features – each cloud storage provider offers numerous plans for personal and business use. For example, a business owner might look for a cloud storage service with online collaboration tools and high-level data privacy protection.
Pricing – as different cloud storage plans vary in cost, consider whether it is worth paying more for additional features.
User-friendliness – choose a cloud storage provider with a simple UI and accessibility across devices for easier file sharing and navigation.
Let's examine our hand-picked recommendations for the best cloud storage services.
Make sure your website can handle everything – from high traffic to fast loading times, and more. Buy Web Hosting
5 Best Cloud Storage Providers for Personal Use
Here, we will cover the best cloud storage services you can choose for personal use. In addition to file storage solutions, these providers offer sufficient security and productivity features to help you with your daily tasks.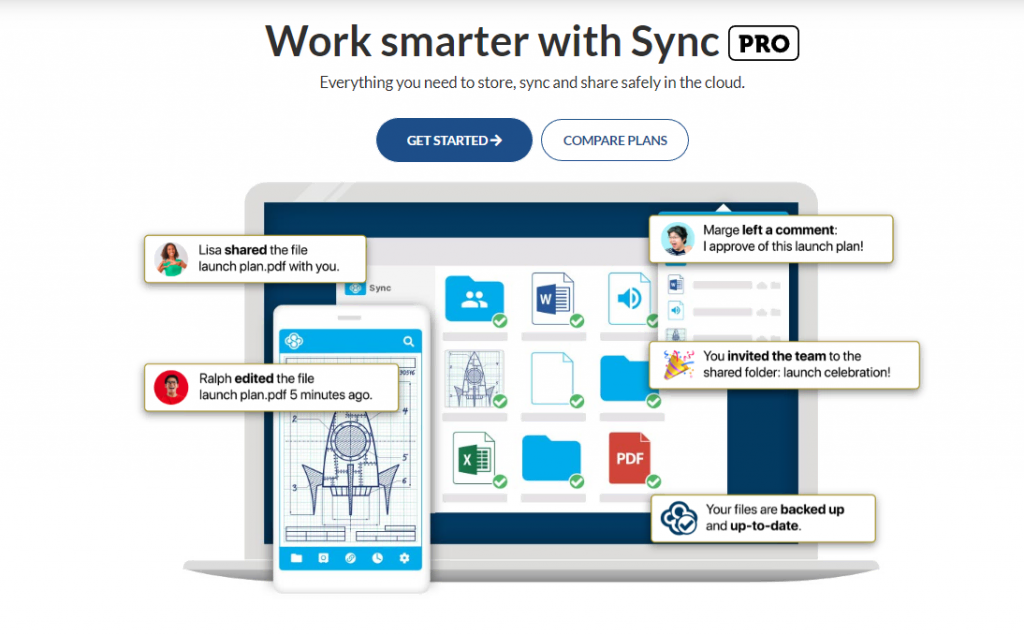 Sync Stats:
Rating: 4.5/5
Best for: sole proprietorship
Price: $8–$20/month
Sync is a cloud storage provider that allows for file storage and document collaboration in a single environment. It offers two premium regular-use plans – Solo Basic and Solo Professional.
The main difference between the two is the amount of cloud storage you will get. Solo Basic comes with 2 TB storage at $8/month, while Solo Professional offers 6 TB storage at $20/month.
Both plans support unlimited data transfer, meaning you can share as much data as you wish with an unlimited number of people every month. Also, your Sync account will be accessible from any Windows, macOS, Android, and iOS devices.
To start using Sync, go to the website and click Create your free account. Then, log into the Sync web panel to access your files.
You will find the option to add new files on your dashboard. You can manually move files from your device by clicking Open or simply dragging and dropping the data from your computer to the app.
Key Features
Extra security protection. Sync's end-to-end encryption ensures that files from and to your cloud storage will reach their destination securely.
Sharing and collaboration. In addition to the unlimited data transfer, you can share files and folders securely with anyone you choose. File request options are also made simpler to use.
Advanced data protection. Quickly restore a backup of your files in case of a ransomware attack. Also, Sync's share control, password-protected sharing, and download restriction feature help to further improve your data privacy.
Cons
Sync seemed to perform slower than other providers on this list.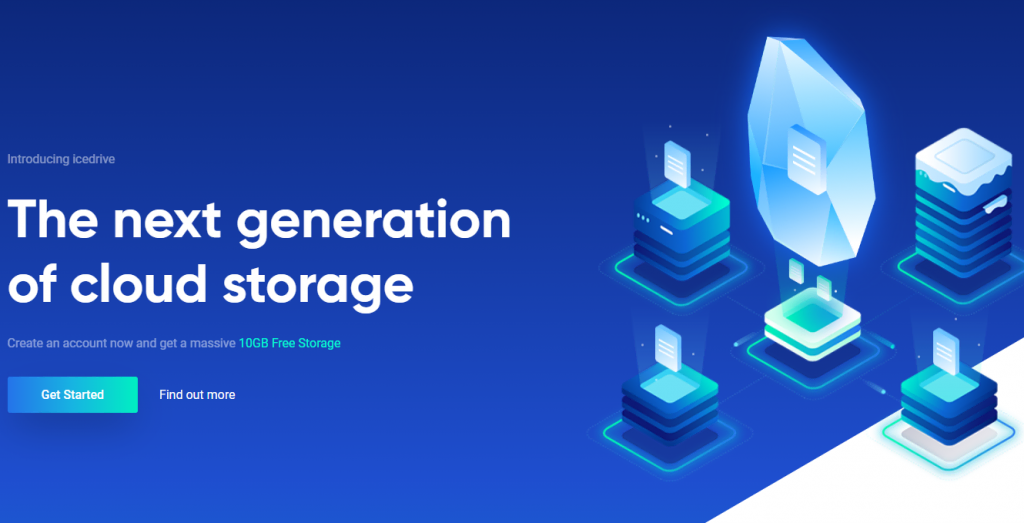 Provider Stats:
Rating: 4.5/5
Best for: Windows users
Price: $4.99–$17.99/month (Lite plan only available at $19.99/year)
Icedrive is a cloud storage solution that is steadily becoming one of the most popular options available. It offers three plans, all of which are more affordable than those of its competitors. For example, the PRO + plan has a generous storage capacity of 5 TB at $17.99/month.
In terms of user-friendliness, Icedrive offers an easy and modern web interface. It is compatible with Windows and macOS devices; you can access your Icedrive account on the website alongside desktop or mobile applications. Additionally, Windows users can utilize the virtual drive.
Key Features
Outstanding security. Incedrive uses the Twofish algorithm, an improved cryptography solution. Furthermore, all files and folders get encrypted on your device before the cloud server performs a re-encryption to avoid data breaches. With its zero-knowledge encryption, only you alone can view and decrypt the data.
Plentiful bandwidth. Offering up to an 8 TB monthly bandwidth limit, Icedrive ensures you won't experience any interrupted service due to frequent cloud storage usage.
Password protection and share timeout. When sharing public links, you can generate a password to control access to your files and set a time limit for file sharing.
Cons
Icedrive doesn't provide integration with third-party applications.
Virtual drive file syncing can become a risk if your internet connection is unstable.
Lack of advanced features compared to others on this list.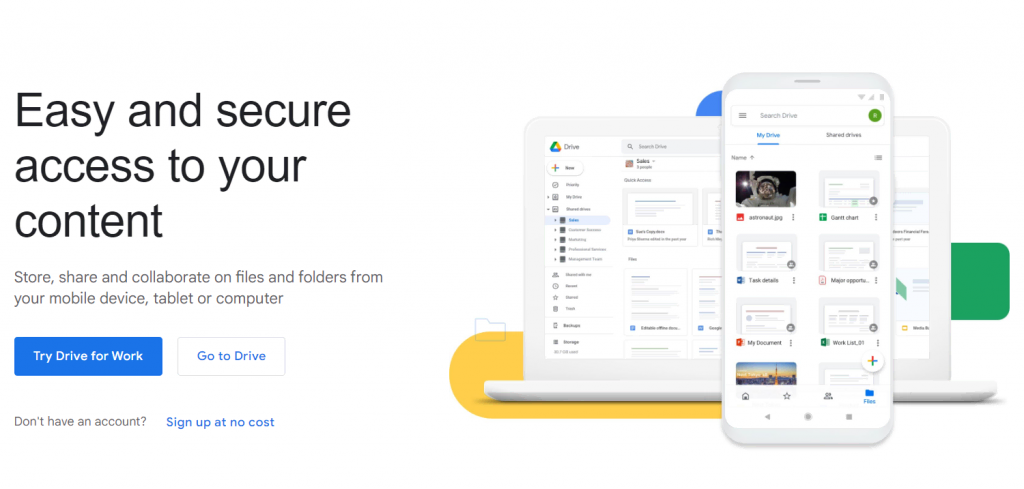 Google Drive Stats:
Rating: 4/5
Best for: Google workspace users
Price: $1.99–$299.99/month
Google Drive is a widely known cloud storage service with a range of storage capacities from 100 GB to 30 TB. It offers a clean, simple, and easy-to-understand web interface. Also, every Google account owner will get a free 15 GB of storage space from the start.
Google Drive is a perfect choice if you're looking for a simple personal cloud storage solution. If you need more space and better security down the line, you always have the option to upgrade your account to Google One and start making use of its advanced features.
Simply sign in using your Gmail account to start using Google Drive. Adding files is as easy as clicking Create New button and choosing the files and folders you want.
Key Features
Integrated applications. One of the main advantages of using Google Drive is the integrated Google workspace, such as Docs, Sheets, and Slides. You can add other applications to boost your productivity and collaboration functionality.
One place to manage your space. Upgrading to a Google One account allows you to monitor storage usage for Gmail and Google Photos at the same time. You will get recommendations on which file to remove to free up space.
Extra privacy and security. Google One provides a virtual private network (VPN) to encrypt your online traffic, allowing you to browse and download content securely.
Cons
No zero-knowledge encryption.
Additional protection features are only available for the 20 TB plan and higher.
Google One is more useful for professionals rather than for personal use.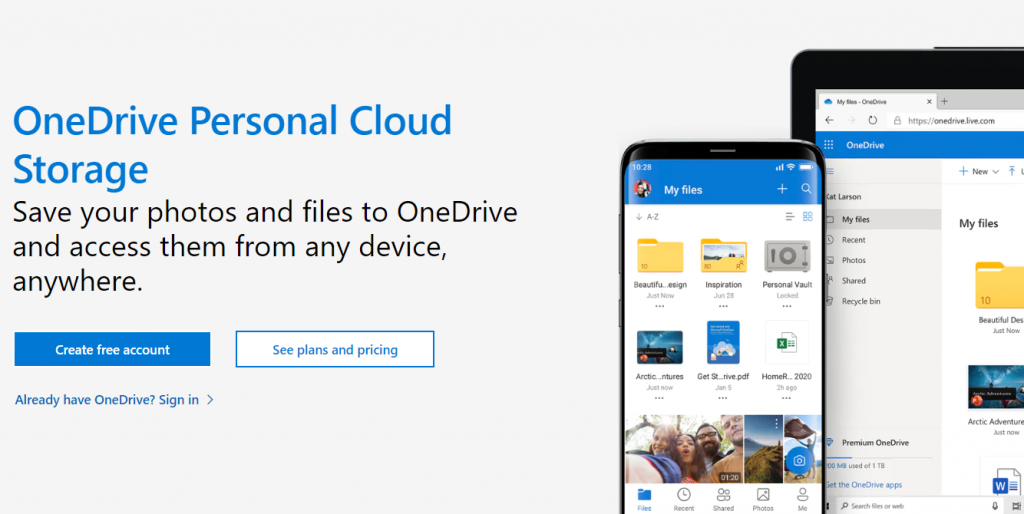 Provider Stats:
Rating: 4/5
Best for: users of Microsoft products
Price: free–$9.99/month
Microsoft OneDrive cloud storage has numerous plans that allow you to store and access files and photos from any device. It integrates with other Microsoft 365 apps, making it the best cloud storage option for Microsoft users.
Its simplest and free plan offers 5 GB of storage, while the OneDrive Standalone plan comes with 100 GB of storage at $1.99/month. However, it includes cloud storage only.
Therefore, we don't recommend using this plan if you're looking for advanced security features for your cloud account. If you want more space, you can upgrade to a Microsoft 365 Personal account, which provides 1 TB of storage alongside other Microsoft 365 products.
There are also several different offers for businesses, and these plans are priced based on your employee count.
Key Features
Microsoft 365. OneDrive is now part of the Microsoft 365 software suite, so you can access the latest Microsoft apps without installing them separately. Also, you can install your favorite apps on up to five different devices.
Personal vault. Protect important documents with identity verification for up to an unlimited number of files.
Free apps for the web. Collaboration is easy, as you can use the entirety of Microsoft 365 to create and share documents online.
Cons
No zero-knowledge encryption. Your documents will be visible to anyone with access to the cloud server, including Microsoft.
Certain limitations. There's a limit on the number of files you can synchronize at once.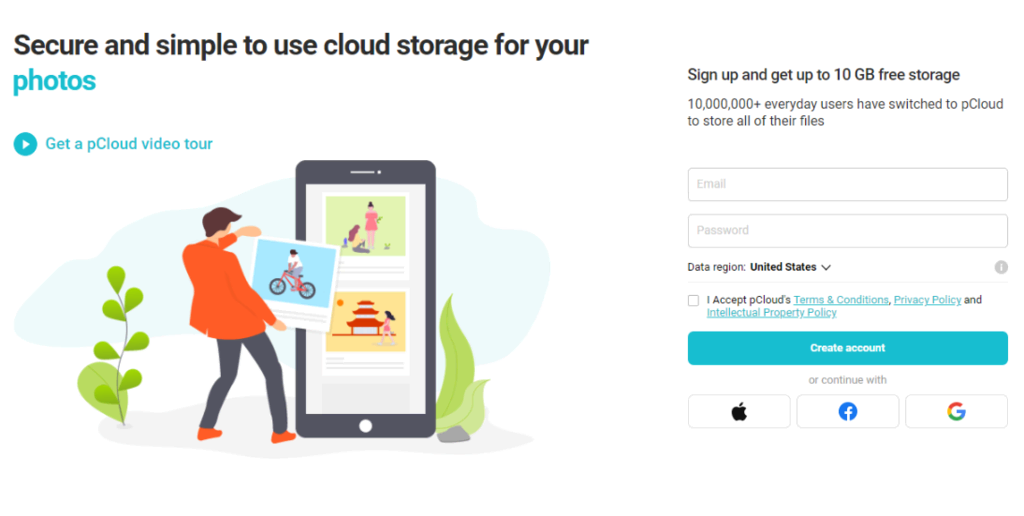 pCloud Stats:
Rating: 4.5/5
Best for: music and media creators
Price: $49.99–$99.99/year or $200–$1200 for lifetime access
If you primarily manage media files, you might find pCloud a suitable cloud storage provider. It has a built-in video and audio player to sort your music files into playlists.
pCloud provides two individual plans you can choose from, Premium 500 GB and Premium Plus 2 TB. Unlike its competitors, pCloud offers an option for a lifetime subscription that allows you to save more money.
To use pCloud, you need to register an account using your email address, Google Sign-In, Apple lD, or Facebook Login. Open the pCloud panel and click Sync → Add New to choose a local folder you wish to sync. Choose a pCloud drive folder, click Save and Add sync to start file syncing.
Key Features
Media and usability. You can upload media files with unlimited size and speed. Also, the media player feature can be helpful when managing different types of media files.
Excellent security. pCloud offers TLS/SSL certificate protection and 256-bit AES encryption. It also allows having up to five copies of your files shared on different servers. Alternatively, you can purchase pCloud Crypto to add an additional layer of web protection.
Improved file management. pCloud Rewind feature enables recovery of old versions of the account for up to 30 days. Also, pCloud offers Remote Upload that allows you to add files to the account by pasting a URL address.
Cons
You will need to pay extra for zero-knowledge encryption.
Top 5 Best Cloud Storage Providers for Business Use
If you're an online business owner or take care of eCommerce clients and business projects, you might consider purchasing business-oriented plans for advanced security, productivity, and collaboration features.
Here are our recommendations for the best business cloud storage providers.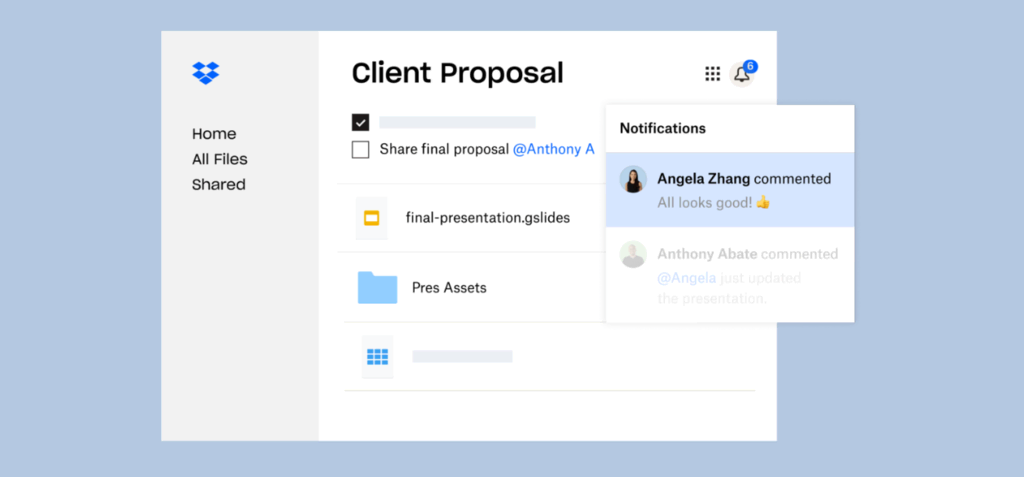 Dropbox Stats:
Rating: 4/5
Best for: sole proprietorship, small to large businesses
Price: $19.99–$30/month
Dropbox Business allows you to create, share, and edit your files from Google and Microsoft 365 apps right from your Dropbox account, simplifying your team's workflow. Dropbox Business comes in two types – Single User and Team plans.
For example, the Single User Professional plan provides 3 TB of storage at $19.99/month, while the Standard plan for teams offers 5 TB of storage at $18/month per user. You can also choose the Team Advanced plan if you wish to have as much space as you need. Also, you can create a custom plan for your business with the Enterprise team plan.
Using Dropbox and adding files is straightforward – simply upload files from your computer using the drag-and-drop feature on the Dropbox website.
Key Features
Secure encryption. Dropbox offers 256-bit AES for files at rest and TLS/SSL encryption for data in transit to ensure your data is protected at all times.
Content and accident protection. Back up files directly to the cloud and recover content quickly if a problem occurs. You can also recover previous file versions for up to 180 days using the Single User and Team Standard plan or up to one year with the Team Advanced plan. Moreover, you can utilize ransomware detection and recovery features to receive instant alerts regarding a potential attack.
Better productivity. Dropbox Paper allows users to create and share work with their teams. Additionally, with HelloSign eSignatures, you can securely sign up to three documents every month without leaving Dropbox.
Team management tools. With Team plans, you have more control over admin access to monitor team activities.
Cons
Dropbox Business subscription plans are rather pricey.
Lacks privacy protection warranty as the provider shares bits of private information with third parties.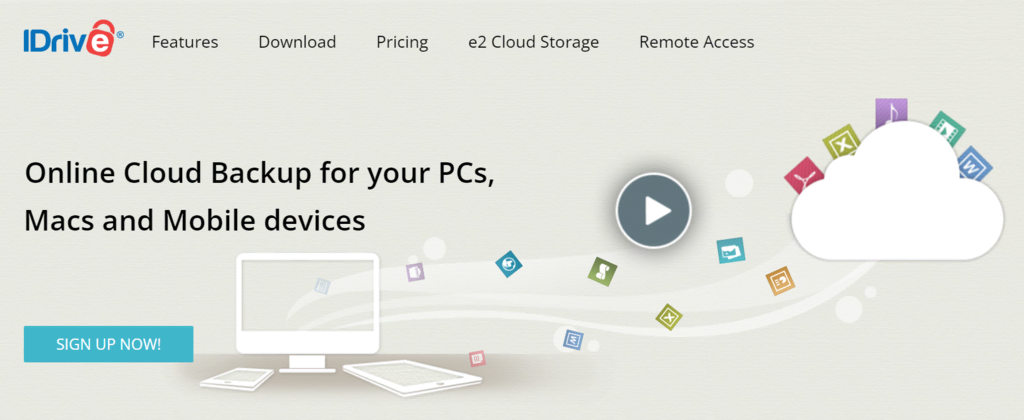 IDrive Stats:
Rating: 4.5/5
Best for: small businesses
Price: $74.62–$1124.62/year
IDrive is a great cloud service provider that offers a hybrid cloud storage solution, meaning you will get cloud storage and online backup functionality within a single account. IDrive focuses on data security for businesses as their priority. These include companies that handle sensitive data such as Social Security, account, and credit or debit card numbers.
The starting IDrive Business plan provides 250 GB of storage, but the company also offers plan upgrades of up to 50 TB. Note that IDrive only accepts payment annually or biannually for plans.
With IDrive Business, you can back up multiple devices under a single cloud account that you can access from all connected devices.
Key Features
Faster and more secure data transfer. Move large amounts of data to your account using IDrive Express. IDrive also provides 256-bit AES encryption with an option to generate a private key.
Improved data protection features. Protect your company's data using server cloud backup, including Microsoft SQL and Exchange Server, VMware, or Hyper-V, to name a few. Alternatively, you can clone files of an individual disk or create a backup file for an entire machine.
Compliance benefits. IDrive will assist you in complying with standard regulations in your industry, such as HIPAA, Sarbanes-Oxley, Gramm-Leach-Bliley, and SEC/FINRA, in avoiding potential violations.
Cons
No monthly option for plans with smaller storage capacity.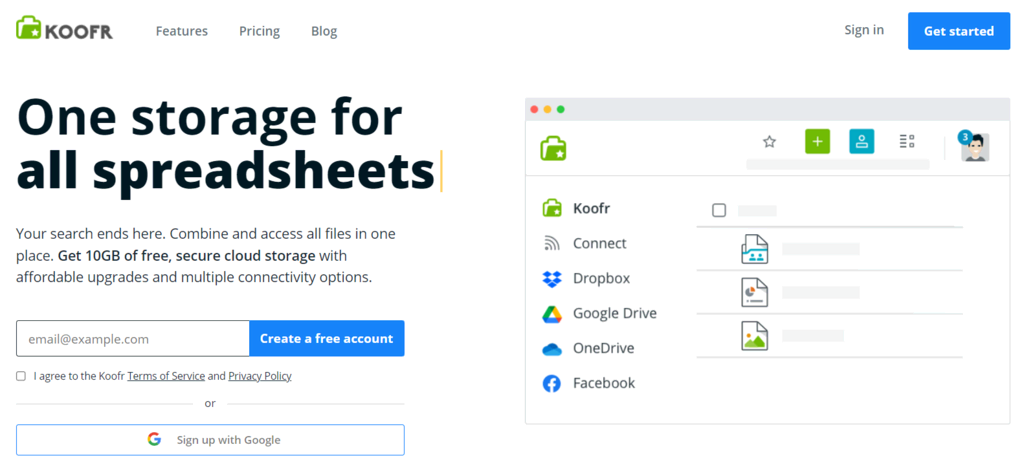 Koofr Stats:
Rating: 4/5
Best for: multiple cloud storage management
Price: €2–€120/month
Koofr offers numerous plans for businesses, such as Suitcase and Crate plans. Suitcase plans include three tiers – 100 GB, 250 GB, and 1 TB. Meanwhile, Crate plans' storage ranges from 2.5 TB to 20 TB. The service also grants an additional 10 GB of storage, no matter the plan you choose.
Koofr is accessible from their web, desktop, or mobile apps. Additionally, you can connect existing cloud accounts from different providers. A two-way synchronization feature allows you to sync files from your computer using the Koofr desktop app.
Key Features
No file size limits. Upload files to the cloud storage without individual file size or type limits.
Simple sharing. Create private or public links and set expiration dates when sharing your files. You can also generate a link whenever you want to receive large files from other users.
Facebook media transfer. You can use Facebook's data transfer tool to export photos and videos directly to Koofr to ensure your data is stored safely. This feature will undoubtedly help you to keep track of your campaign creatives if you use Facebook for eCommerce marketing.
Excellent privacy options. Koofr guarantees compliance with EU privacy legislation for data protection.
Cons
No zero-knowledge encryption.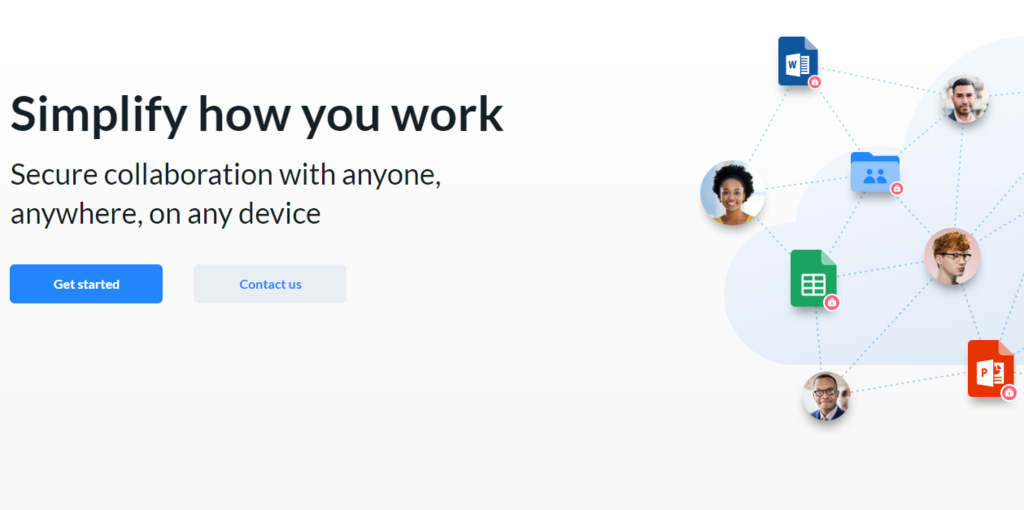 Box Stats:
Rating: 4.5/5
Best for: project-based businesses, eCommerce
Price: $15–$35/month per user (minimum of three users)
Box is known for simplifying workflow and securing collaboration with your team and clients. It supports over 1,500 app integrations to create and edit files with services such as Microsoft 365, Google, and more. Moreover, Box integrates well with popular business-focused apps like Salesforce and Oracle NetSuite.
You can benefit from using Box if you run an agency that utilizes an eCommerce plafform, customer relationship management strategies, banking, financial services, or other vital institutions. Sizable organizations and government agencies use Box for advanced security, privacy, and collaboration features.
Key Features
Frictionless security. Box partners with top-notch tech security and compliance providers to ensure the highest data security and privacy services. You are guaranteed to benefit from advanced security control, cyber threat detection features, and complete information governance that fully meets global compliance requirements.
Seamless collaboration. You can work together in one environment using Box's Content Cloud. You can manage content more quickly and monitor research reports and product designs from one place.
Unlimited eSignatures. Since you directly interact with agreements and digital contracts for your business, you can easily use Box Sign to manage signatures securely and quickly.
Cons
Box plans are pretty expensive. Therefore, it may suit larger businesses better.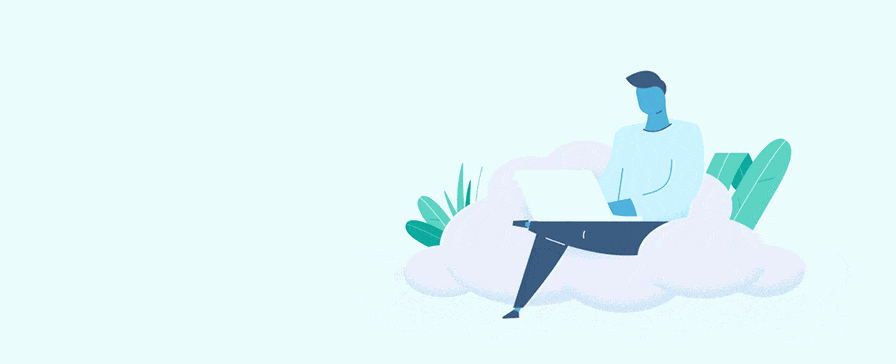 Zoolz Stats:
Rating: 4/5
Best for: non-government organizations (NGOs), educational institutions
Price: $15–$37.50/month (BigMIND Business) or $199.99–$8999.99/year (Zoolz Backup)
Zoolz offers a plethora of advanced productivity features alongside not having a file size limit. It also supports community-building initiatives by granting great cloud storage deals for NGOs and educational businesses. If you're running a business in such areas, we wholeheartedly recommend using Zoolz.
The service allows for an unlimited number of users and backup servers. Zoolz also enables complete administration, policy control, and user management toolsets. If you prefer more control over your account, Zoolz will be an excellent cloud storage solution for your business.
BigMIND Business is Zoolz's latest innovative cloud storage solution. While Zoolz Cloud Backup offers more traditional storage services, BigMIND combines time-proven systems alongside new AI-based features focusing on education, healthcare, or non-profit-oriented organizations.
Key Features
Trustworthy data storage. Zoolz partners with Amazon Web Services (AWS) to provide reliable data storage solutions.
Easy file management. Zoolz is user-friendly and lightweight. You can share, organize and preview all your files. You can also automatically restore your files using a single click.
Data and user management. It offers a straightforward UI for configuring backups and writing policies for users. You can control the storage limit and encryption preferences, as well as suspend, activate, or remove users, with these changes propagating instantly.
Cons
Offers a plethora of different options to choose from, which can get overwhelming.
Limited file versioning options – allows only up to 10 versions.
5 Best Free Cloud Storage Providers
Having learned about paid storage services for personal and business use, let's go over the best cloud storage services for a tighter budget.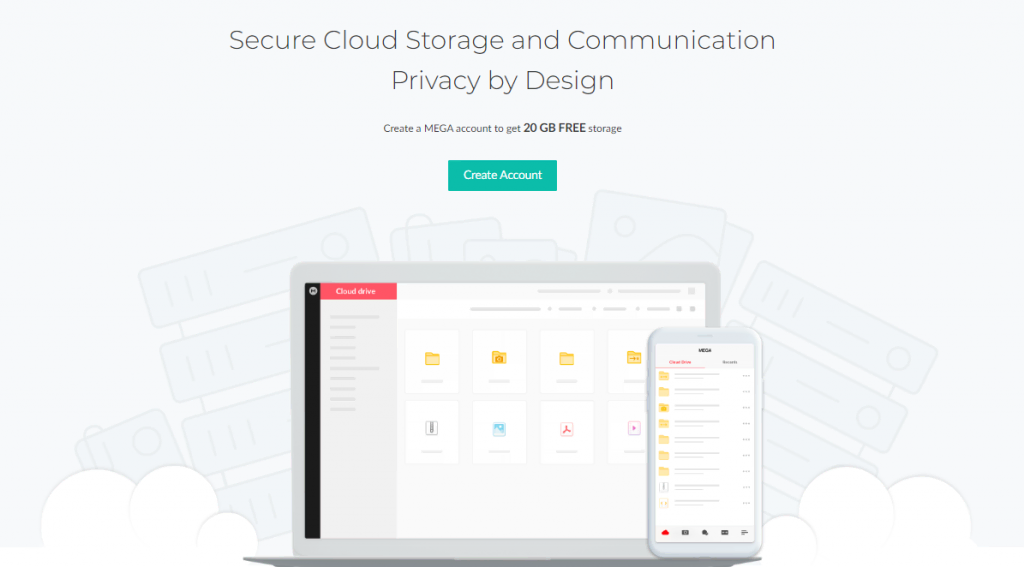 MEGA Stats:
Rating: 4/5
Best for: personal use
Price: freemium ($4.86–$29.19/month for additional storage space)
MEGA is easily one of the most well-known freemium storage providers out there. Its free storage plan gives you 20 GB of storage, and you don't need to pay anything for MEGA's advanced security features. You can even get temporary storage for up to a year by installing its desktop and mobile apps.
To use MEGA, you need to create an account first. Once you have verified your email, you can download and install the MEGA desktop application. Then, configure MEGAsync, where you can create a MEGA folder and manage file syncing and backups.
Key Features
Simple file transfer. MEGA's Transfer Manager allows you to check download progress and schedule file transfers. Your friends or clients can download shared files without signing up.
Improved security features. MEGA uses zero-knowledge encryption. It will encrypt the data with a key derived from your password, and your information will remain protected. You can also enable the two-factor authentication (2FA) anti-ransomware feature for an additional layer of security.
Collaborate with MEGAdrop. This tool allows people who don't have a MEGA account to upload files to your cloud account.
Cons
Offers basic productivity features only.
No integration with popular third-party apps.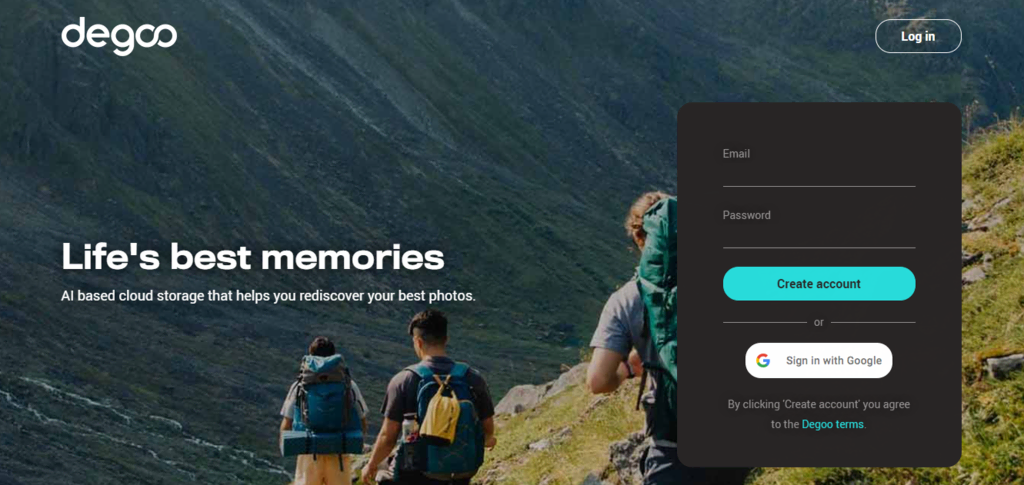 Degoo Stats:
Rating: 4/5
Best for: personal use
Price: freemium (£1.89–£6.39/month for additional storage space)
Degoo is an AI-based cloud storage solution that enables the access and sharing of photos or documents without reducing file size and quality. Degoo's free storage plan offers 100 GB, which is more than its competitors. You can also get up to 500 GB of free storage by referring Degoo to your friends – 5 GB per person. Degoo supports usage on mobile devices as well.
To create a Degoo account, you can use your email address or Google login. You can start adding files by simply clicking the Upload button and choosing the files you wish to back up.
Key Features
End-to-end encryption. TLS and 256-bit AES encryption protects your files no matter where you are.
Simple photo-sharing options. You can use up to five devices to access and upload your files to Degoo. Furthermore, people don't need a Degoo account to receive these files.
Cons
Degoo's free storage plan contains ads.
It doesn't offer many productivity or collaboration features.
No zero-knowledge encryption.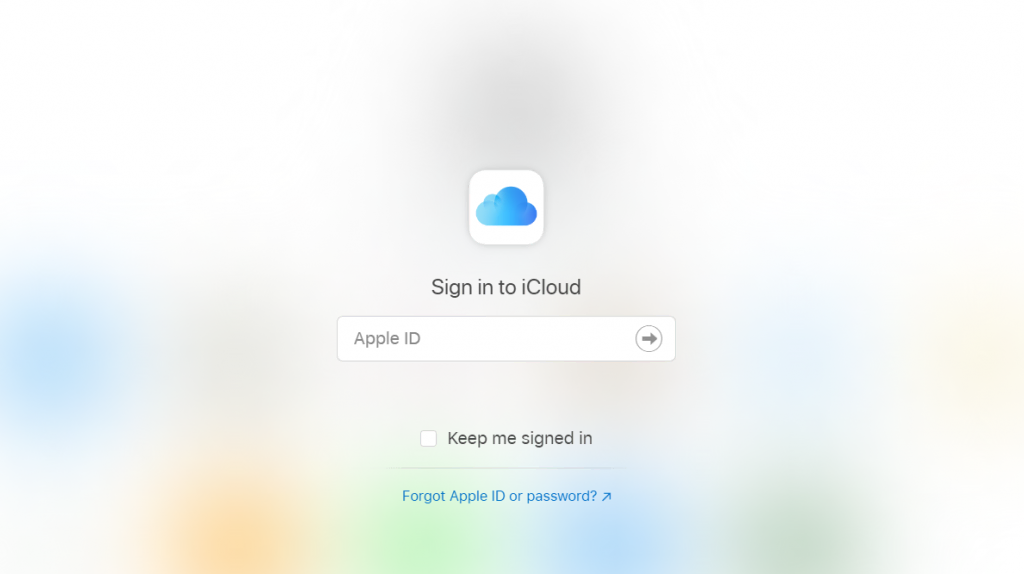 iCloud Stats:
Rating: 3.5/5
Best for: Apple products users
Price: freemium ($0.99–$9.99/month for additional storage space)
Apple products users can use iCloud to safely store their files, passwords, photos, and other data in the cloud and easily access them across all their macOS and iOS-based devices.
Moreover, you can quickly restore the data on your new Apple device by simply restoring your iCloud backup file if you lost your device. iCloud offers 5 GB of free storage for your data and is upgradable with paid plans.
To use iCloud, simply sign in to your device using your Apple ID, and choose which mobile apps you wish to use.
Key Features
Up-to-date information. If you enable the iCloud Photos feature on your MacBook, iPad, or iPhone, you will see these files across multiple devices. In other words, whenever you make changes to your photos on one of your devices, they will also change on another.
Seamless integration. iCloud flawlessly integrates with other Apple-based features.
End-to-end encryption. All information is encrypted, so only you can access your data on Apple devices that are signed in to iCloud.
Cons
No built-in search feature.
Lacks some of the more advanced features found on this list.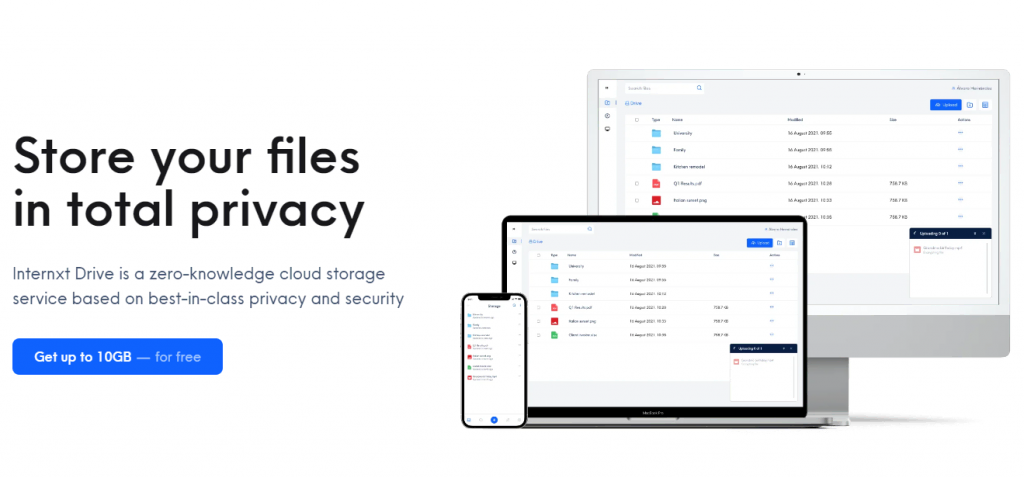 Internxt Stats:
Rating: 3.5/5
Best for: personal use
Price: freemium ($0.99–$9.99/month for additional storage space)
Internxt offers a 10 GB free storage plan to sync, backup, and share your files. It uses a user-friendly web interface with military-grade encryption to secure your data.
You can also get up to an ​​additional 10 GB of free storage by completing tasks such as subscribing to Interxt's newsletters, installing various apps, and getting referrals. If you want a free and straightforward cloud storage service with excellent protection, you should consider using Internxt.
The company allows you to sort files and back up computer folders to keep the most recent versions of your essential files. You can also access your files from a web, desktop, or mobile app.
Key Features
Top-notch security and privacy. With zero-knowledge encryption, Internxt keeps your files, passwords, or encryption keys safe. Therefore, no one except you can access your data – Internxt highlights its dedication to privacy protection through its user-oriented UI design.
Back up essential file versions. This newly introduced feature enables users to store the latest version of their essential files in Internxt Drive, so you won't risk losing anything important.
Cons
Limited advanced features compared to others on this list.
Not recommended for business use.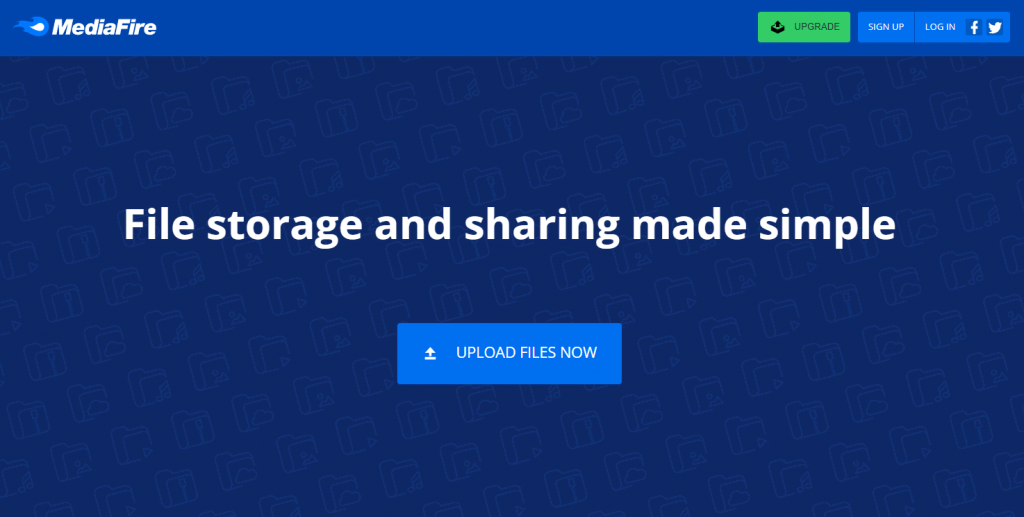 MediaFire Stats:
Rating: 3/5
Best for: personal use
Price: freemium ($5–$50/month for additional storage space)
MediaFire allows you to store files with unlimited bandwidth and downloads. Its free plan comes with 10 GB of storage. You can get an additional 1 GB of free storage per person by referring MediaFire to your friends, sharing information about the service on Twitter, and installing the mobile app. It's worth noting, however, that MediaFire only offers file storage without advanced productivity features.
To use MediaFire, you need an account. Then, open MediaFire Cloud and click Upload. You can upload your files in two ways – from a computer or a web app. Simply drag and drop your data to the cloud account if you're uploading your files from a computer. Alternatively, enter the file URL if you are using the web app.
Key Features
Simplified file sharing. You can share files and folders through email, social media, or your website. You simply generate a sharing link.
Multiple uploads at once. MediaFire allows you to upload hundreds of files at once using any device or web browser.
Cons
Weak security protocols. Not recommended for business use.
Conclusion
When choosing the best cloud storage service for personal or business use, you should consider whether it provides the needed features.
Take note of features such as accessible backup, file sharing, and productivity functionalities, as well as high security and privacy to ensure data protection.
To help you decide, here are our cloud storage service recommendations based on different use:
Cloud storage services for personal use – Sync, Google Drive, and Icedrive.
Cloud storage services for businesses – Box, IDrive, and Dropbox.
Free cloud storage – MEGA and Internxt.
We hope this article helps you figure out which cloud storage service is best for you.
If you have further questions or suggestions, feel free to leave them in the comments section below.
Best Cloud Storage Providers FAQ
Is There an Unlimited Cloud Storage Service?
In terms of storage, no provider offers unlimited storage – more storage requires higher subscription costs, resulting in more servers used. Most cloud storage services provide up to 50 TB of storage only.
Is It Worth It to Pay for Cloud Storage?
Cloud storage is crucial for secure file sharing and the backing up of data using any device at any time. While some providers offer free storage alongside the most common cloud storage features, paid plans provide more advanced security, productivity, and collaboration solutions.
Is It Safe to Use Cloud Storage Services?
Cloud storage services can benefit your personal and business tasks, but not all providers offer end-to-end encryption for your files. Remember that you need to choose a provider that ensures the highest level of security to keep your data safe.